The Data Visualization Speaker Series presents: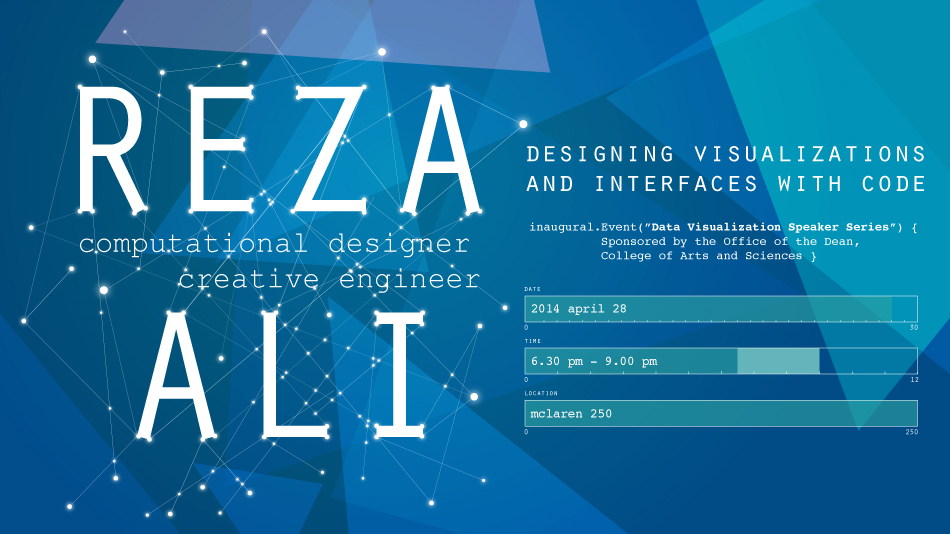 Reza Ali
Designing Visualizations and Interfaces with Code
Monday, April 28, 2014
6:30pm to 9:00pm
McLaren, Room 250
Reza's talk will explore the process of designing and implementing interfaces and generative visualizations. He will showcase his most recent works and address the aesthetic considerations and challenges involved in creating each piece.
Schedule
| Time | Description |
| --- | --- |
| 6:30 – 7:15 | Doors open, socializing, food, drinks |
| 7:15 – 8:15 | Speaker's presentation |
| 8:15 – 9:00 | More socializing, Q&A |
Bio: Reza is a computational designer and creative engineer. He uses code to express himself, and creates tools and libraries to help others create. He is the author of ofxUI, one of the most popular add-ons for openFrameworks (an arts-engineering toolkit). Though his works is highly visual, he is interested in the ideas and implications of his tools, works, and methodology. As an artist and engineer he is deeply interested in the feedback cycle that occurs when customs tools are written to accomplish an artwork, and how those tools can enable artworks to go beyond what the artist had originally envisioned. Reza is excited to find those happy accidents, beautiful moments of interaction and magic that comes with making something novel with technology. He hopes to change the world by making a difference in how people use technology, design products and experience new media art and entertainment.
Notice: Attendance at this event is mandatory, and will replace lecture on Tuesday 4/29. (We will not meet on Tuesday 4/29 as a result.)